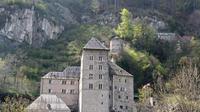 Forts and national reduce. For the visit of the fortress, we shall be accompanied by a old serviceman who will speak to us about this place filled with history and who served during the World War II as defense of the axe of Simplon. The region of Valais is stuffed with forts intended to block the advance of the invader in case of attack. It was the plan of the " national cubbyhole "
Categoría: Tours culturales y temáticos.
Inicio en: Saint-Maurice, Switzerland.
Duración: 3 horas.
Precio: 28,98 euros.