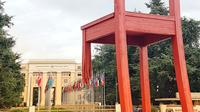 Geneva city tour with private tourguide. Spend a half day in Geneva, Switzerland's most international city, with your private tour guide. Your walking tour will give you a complete overview of the spots of the  city center and same of the most known buildings & spots.  Your tourguide will show you the buildings of the Red Cross and United Nations, feel and smell the flowers in the botanical garden, built in 1817. Get along the shore line of the lake Geneva and cross the Rhone river to get to the old town. Visit the St. Pierre cathedral, walk to the cimetry of the kings, where you will find the grave of John Calvin.
Categoría: Tours privados y personalizados.
Inicio en: Geneva, Switzerland.
Duración: 4 horas.
Precio: 133,12 euros.